John Robson
31/5/011
MY SCOTLAND
I first visited Scotland in 1967 to watch the final of the European Cup Winners' Cup at Hampden Park, Glasgow.  My team, Liverpool FC, were playing Borussia Dortmund of Germany.  We played badly and lost 2-1, after extra time had been played, on a 'dricht' and very disappointing night. 
It was another 15 years before I visited again.  Since that second trip I must have visited Scotland over 100 times for leisure and, on occasions, business purposes.  In 1982 my partner, Fern, and I went to the Cairngorms for our summer holiday.  We stayed in a guest house in Boat of Garten with the wonderful Mrs Harrower in Kinchurdy Road.  It was a great holiday, although I seem to remember that the weather was, once again, very wet at times.  We walked on Cairngorm and Ben Macdui, although I have to admit that we did use the chairlift to gain height.  We also visited The RSPB Reserve at Loch Garten to see the ospreys.  This is a trip we have made many times since.  Mrs Harrower was the best landlady we have ever stayed with.  She had a lovely house and was a super cook.  We were made to feel very welcome and her evening trays of cakes, scones, biscuits and pots of tea are still a source of discussion in our house.  She had a quiet, dry sense of humour and amused us with her comments about the 'rich folk' who lived on Kinchurdy Road.  She retired in the 1990s and was, I am sure, sorely missed by many visitors to the area. 
In 1983 we stayed at Rannoch for the first time and it was probably this visit that cemented our long lasting affection for Scotland.  We had a weekend trip to the Loch Rannoch Hotel and ended up buying a timeshare week, much to our surprise! We were completely taken with Loch Rannoch and we always look forward to our week there at the end of June.  We're not really timeshare owners by nature and we probably haven't used our ownership to its full advantage, but we are grateful that we have a reason to return each year.  Richard's photos (see Gallery section) pay testament to how stunning the Rannoch area is.  We have climbed Schiehallion four times and I can understand why Richard finds it hard to resist climbing it!
There have been low points during our period of ownership of the timeshare week.  The awful kerfuffle with McDonald Hotels, who managed the lodges a few years ago, was most disconcerting.   The lodge owners threw out McDonalds as managers because of their very poor performance.  The legal wrangling went on for some time and, as individual owners; we came under heavy pressure from them to vote for their proposals in various ballots that took place.  Fortunately, they were unsuccessful in their attempts to regain control of the estate and things have been better since (but, as recent news reveals, not without further incident).    
Travelling by public transport
For many years, each summer, we drove the 450 miles to Perthshire from our home in Rugby, Warwickshire.  With stops it would take us eight hours to complete the journey.  In 1989 an accident near Aberfoyle resulted in our car being written off (no injuries, thankfully!).  We reassessed our travel habits and although we continue to own a car we travel, when possible, by means other than driving.  Travelling to Scotland by public transport, and using it to get around whilst there, is not always the easiest thing to do but we are used to it now and would recommend it.  Our favourite journey used to involve taking the sleeper service from Crewe to Rannoch (arrives 08:40), breakfasting at the Moor of Rannoch Hotel and then boarding the post bus service to Kinloch Rannoch.  Alas, I understand the post bus service has now been withdrawn.  This is a great disappointment to us.  We shall now travel on the early morning train from Rugby to Glasgow and then on to Rannoch using the Scotrail service.  The Brown's bus leaves Rannoch, on school days, at 16:00 arriving in Kinloch Rannoch at 16:30.  We can hire bikes in Kinloch Rannoch to get about.  We have also been lucky enough to be given lifts by Tim, Sandra and Richard on our trips to mountains in the area.
It may not sound it but the use of train and bus is so much more relaxing and enjoyable than ploughing up and down the M6 motorway in a car.  We joined the Scotrail Advance Loyalty Club some years ago and have benefitted from some excellent discounts.  The best offer is the occasional £99 return sleeper fare between London and Fort William, Inverness or Aberdeen.  For further information go to: http://www.scotrail.co.uk/advance/index.html 
Mountains
In his book, The High Mountains of Britain and Ireland, Irvine Butterfield notes that England has four peaks over 3000 feet; Wales has eight (depending on the method of differentiating a top from a mountain) and Ireland has seven mountains.  Butterfield informs us that Scotland is represented by 281 mountains (the figure changes from time to time, as a result of re-measuring, and is now 283 according to the Scottish Mountaineering Club).  The fact that Scotland has over 280 mountains of over 3,000ft [914.4m] never ceases to impress me.  In addition, there are 220 Corbetts (hills between 2500ft [762m] and 3000ft [914.4m] with a drop of at least 500ft [152.4m] between them) and 224 Grahams (hills which are between 2,000 and 2,499 feet [610 and 761 metres], and which have at least a 150 metre drop between them).  To anyone who enjoys hill walking, Scotland has to be the best place to visit in the UK. 
It's difficult for me to pick my favourite Scottish mountain.  Those that come to mind immediately are Cairngorm, Schiehallion, Ben Alder (which Fern and I completed at the third attempt with help from Tim, Sandra, Richard, Zoe and Samantha), Braeriach, Beinn a' Ghlo (also led by Tim) and Beinn Dorain.  The second attempt on Ben Alder, again with Tim and Fern, was a memorable day because of the weather.  The three of us set off on bikes from Dalwhinnie along Loch Ericht with the aim of parking near Culra Bothy and going on by foot.  Fern decided to turn back at Loch Pattack but Tim and I crossed the bridge and continued to cycle along the increasingly rough track.  We parked not far from Culra and headed for the mountain.  We began to ascend the Long Leachas, and had probably reached the halfway point on the climb when the sleet began and immediately started to sting our faces.  We could tell that this was not going to be just a brief shower and decided to abandon the climb towards the summit.  Soon after, claps of thunder began rolling ominously around the plateau whilst the rain was getting heavier.  By the time we reached our bikes the rain was pouring down and we had flashes of lightning to accompany the thunder.  We cycled for two hours through some really wild weather to reach Dalwhinnie and an anxiously waiting Fern.  My hi-tech mountain coat never stood a chance and I was drenched to the skin.  We saw numerous young people making their way to Culra bothy (possibly on a Duke of Edinburgh Award), drenched and looking miserable.  At least we were heading home for a hot shower!  The power of the thunder and lightning exhilarated and scared me at times.  My brush with the elements left me feeling invigorated for several days. 
Music
The sound of the bagpipes seems to be one that people either love or hate.  I am in the former category.  Played in the right place, at the right time, by the right person they can make a very evocative sound.  In recent years some of Scotland's finest folk bands have used the pipes, in new and inventive ways, in the development of Celtic folk-rock music.  My favourite bands of this genre include Old Blind Dogs, Peatbog Fairies and Wolfstone.  Martin Bennett was also a favourite but, unfortunately, he died of an incurable cancer.  I also am a big fan of Shooglenifty who, as far as I know, do not use the pipes to create their wonderful blend of traditional Scottish music and dance rhythms.    
Celtic Connections is a music event, now in its 17th year, held during January in Glasgow.  The marketing people state that it is a 'Celebration of the influence of Celtic music on cultures around the world'.  For further information go to: http://www.celticconnections.com/festivalretrospective/retroyear/10 The festival lasts for nearly three weeks and comprises concerts, ceilidhs, talks and workshops (eg how to play a bohdran). 
I have attended the festival twice, and it appears to be going from strength to strength.  It must be one of the foremost popular music events in Scotland's calendar.
I'm happy to listen to traditional pipe music as well and I often listen to the Pipeline programme on BBC Radio Scotland via the BBC i-Player.    
Real Ale in Scotland
On our early visits the real ale situation was grim - very grim.  I reckon that there was no real ale in 90% of the country in the early 1980's.  Tennant's and McEwen's keg beers were the top dogs – hence our affection for cans of 'Sweetheart Stout', but I won't go into that.
The real ale situation in Scotland has improved greatly over the years, and there are now some exceptional beers available from a number of very able Scottish brewers.  The Scots are now fervent about their real ale and are prepared to provide it in some unusual places.  The most remote pub in Britain is The Old Forge, Inverie, Knoydart.  It can be reached by ferry from Mallaig or by a 15 mile walk in.  The beers are provided by Isle of Skye and Glenfinnan breweries.  We visited Knoydart about 10 years ago but I didn't know the status of the Old Forge at the time.  I was expecting bottled, and possibly keg, beer but not cask conditioned real ale.  I was amazed to see two hand pumps on the bar when we walked in after a long day out in the hills. 
Perhaps even more strangely, for a short period in 2008 the Corrour Station Tea Rooms and B&B sold two cask conditioned ales and some bottled beers from the Cairngorm brewery.  People who know Corrour will appreciate how far off the beaten track it is.  To stock cask beer, that has to be consumed within 3 to 4 days before it goes off, in such a location seemed reckless to me.  However, the beer we tried when we visited was in excellent condition and a real credit to the people who were running the establishment.  My first question was, 'How did they get the casks there?'  The answer was via a 16 mile estate road to which very few people have the key.  Alas, the venture was unable to continue (for what reason I do not know) and the building was out of use for some time.  However, the Scottish YHA now runs it, currently without the real ale, but it is still a great place to eat after a day in the surrounding hills.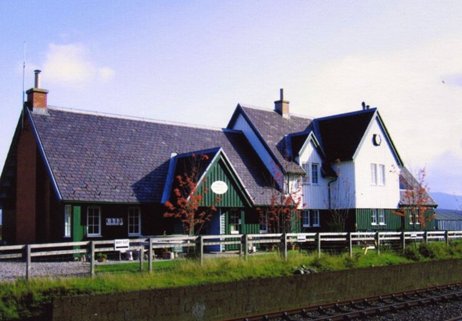 Corrour Tea Rooms
History
To add to all its other attributes, Scotland has a vast and very colourful history (the colour, in many cases, being blood red!).   On one of our early trips to Scotland, we visited the Landmark Centre near to Carrbridge.  We saw a film about the battle of Culloden.  Unfortunately, the projector broke down and we never saw the end of the film until years later when it was shown on TV.  However, what I saw made an impression that has stayed with me to this day.  It was a brutal portrayal of what happened at Culloden, filmed in documentary style as though the cameras were present at the battle, which was quite something back then (it was made in 1964 although we saw it in the early 1980s).  I understand that it caused quite a stir at the time and its director, Peter Watkins, was criticised from many quarters for adopting a graphic, war reporting approach to the subject.  The film was heavily influenced by the book Culloden, written by John Prebble.
The development of Kinloch Rannoch can be traced back to the aftermath of the 1745 rising which ended with the battle of Culloden. 
I have found that reading the historical novels of Nigel Tranter has given me a general appreciation of Scottish history.  I recommend the Bruce Trilogy which is a complex story of the struggle for Scottish independence, told by a marvellous storyteller.     
Scottish football managers and players
I mentioned at the outset that football was an interest of mine.  Scottish players and managers have played a major part in the history of Liverpool FC. I went to my first game in 1960, not long after the legendary Bill Shankly took over as manager.  He was the architect of the Liverpool success story which ran virtually uninterrupted for 30 years.  I don't think any manager in the English game has had a better rapport with fans than Shankly.  He was so passionate about the game and his team - this was at the root of his bond with the supporters.  There are many, many stories about his sayings, the most famous (and most misquoted) being made during an interview in 1981 when the interviewer suggested, 'To you football is a matter of life or death!'.  Shankly replied, 'Listen, it's more important than that'.  It seems an odd thing to say until you consider the fanaticism of Liverpool supporters, many of whom have had their ashes spread on the Kop (the famous end of the ground which took its name from a battle from the Second Boer War) and some, the lucky ones, have had their caskets buried behind the goal at the Kop end.    
Other famous Scottish footballers who have played for Liverpool include Elisha Scott, Matt Busby, Billy Liddle, Ian St John, Ron Yeats, Willie Stevenson, Kenny Dalgish (recently returned as manager for the second time), Steve Nicol and Alan Hansen to name just a few.         
To conclude
Scotland is a wonderful place.  The mixture of breathtaking mountains, wonderful scenery, enthralling history, remarkable wildlife and great music makes it a place I continually wish to visit.  The strong association with Liverpool FC and the ever-improving quality of its real ale further strengthen my allegiance and my yearning to return.
John Robson – May 2011